I got a degree in political science from Northwestern State University, one of Louisiana's 14 public universities granting bachelor's degrees. As an alumnus, I received an e-mail yesterday from NSU's impressive new president that I thought needed to be shared.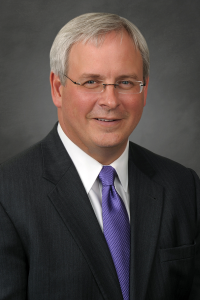 Jim Henderson has been at the helm of the university with the most beautiful campus in the state for a little more than a year, and he's leading through challenging times with vision, courage, and tenacity. The former Bossier Parish Community College chancellor's energy and passion made a splash early in his tenure in Natchitoches. On a few occasions, he's provided color commentary for basketball games, and when the baseball team was on a road game streak and missed commencement, the president and his wife drove 480 miles to Sweetwater, Texas, to hold a mini-ceremony, in full regalia, in the meeting room at the local Holiday Inn Express. Now that's commitment and leadership.
While much of his message speaks for itself, I will provide some context after each of the e-mail's paragraphs below.
Although legislators have made significant progress in addressing the state's fiscal crisis with a balanced approach of spending cuts and revenue increases, we still face the largest midyear cut to higher education in the state's history. Not only will universities receive a $42 million reduction in state funding, they will also not receive TOPS payments made on behalf of every student on TOPS. While we at Northwestern State are committed to protecting our students from the TOPS shortfall, the failure of the state to fulfill its commitment is troubling, to say the least. We implore you to continue your advocacy efforts to fix this gap for higher education before March 9.
Now for some historical context, and this is where the well-worn "beating a dead horse" expression will eventually come in.
In late 2008, less than a year after Louisiana's new wonky governor Bobby Jindal took office, the state was facing a $341 million mid-year shortfall – including $109 million in anticipated education cuts – after the repeal of the Stelly plan six months prior and the subsequent collapse of oil prices in the fall. Incidentally, Vic Stelly, the former Lake Charles legislator and namesake for the Stelly plan, earned his bachelor's degree from Northwestern State in 1962.
According to a New York Times article, "Mr. Jindal called the tax break 'terrific news' and happily signed it into law as legislators cheered." For anyone who wants to blame Jindal exclusively, it must be said that support for the repeal in the legislature was unanimous even after the non-partisan Public Affairs Research Council of Louisiana called the repeal "shortsighted fiscal policy" and strongly recommended against it. "Anybody paying attention knew we were laying the groundwork for fiscal problems, as we cut taxes and raised spending," said former PAR president Jim Brandt.
Of course, even a political novice knows not to let facts and data get in the way of a chance to score some major political points. As LSU political scientist Wayne Parent points out in the ultimate primer on Louisiana politics, Louisiana politicians have always loved "giving back" to the people. Now back to Dr. Henderson's email…
No other state in the nation has cut funding to higher education more than Louisiana. Since 2008, Louisiana's colleges and universities have absorbed 13 midyear budget cuts, three in the last 90 days.  According to the Southern Regional Education Board, students enrolled in Louisiana colleges and universities receive the lowest state funding in the South. While students in surrounding states receive an average of close to $6,000 in state funding per student, Louisiana students receive only $3,200. To make up the difference, Louisiana has increased tuition 99 percent; however, even with rapidly increasing tuition costs, Louisiana continues to fall short of funding compared to every other Southern state.
re: beating a dead horse: I should take this opportunity to point out that higher education leaders (e.g., in 2012) and college students (e.g., in 2010) have sounded alarms about the drastic cuts to higher education many times over the nearly 8 intervening years since the Stelly repeal. While I understand the fight must continue, especially now, one can't help but wonder why the many desperate appeals have heretofore, over the span of nearly a decade, largely gone unheeded by leaders in Baton Rouge.
Louisiana ranks 48th in educational attainment (citizens with a two-year or four-year degree) in the nation. Educating the citizens of our state is an investment, not a cost. On average, those with college degrees contribute twice as much to the tax base annually as those who conclude education with a high school diploma.
The Lumina Foundation pointed out last year that, despite positive trends, Louisiana continues to lag about 10 percent behind the nation in terms of overall higher education attainment among all working-age adults as well as young adults between 25 and 34. Dr. Henderson closes:
Thank you for your support of higher education and Northwestern State. We look forward to working with you to ensure Louisiana has a stable and sustainable funding source for higher education so our institutions can focus on educating our citizens, empowering our employers, and serving our students.
Meanwhile, the intrepid capitol journalist Tyler Bridges just reminded us, "Nine days before the special legislative session ends, the Louisiana House and Senate made little progress publicly Monday toward solving the state's budget crisis." Let's hope that the beating of the dead horse ceases soon and schools like NSU can return to providing wonderful higher education opportunities for our young people.